RV/MH Hall of Fame Wish List
SUPPORT YOUR RV/MH HERITAGE FOUNDATION
BY DONATING ONE OF THE ITEMS BELOW.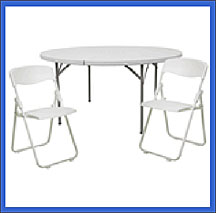 When we are hosting large events, we normally have to rent extra tables and chairs. Help us save those costs and provide better service by donating today.
The cost for 1 set (1-Table & 8 Chairs) is $200.00
Total cost of 23 tables and 184 chairs: $4,600
We need a lift like this to keep us from renting one each time we need to change light bulbs or have service work done inside or outside of the building.
Total cost of a good used scissors lift: $6,000
---
All donations are tax deductable as we are a 501 c-3 non-profit organization.