Mission Statement
RV/MH Heritage Foundation is dedicated to enhancing the RV & MH Industries by providing a facility to preserve the history and honoring of the pioneers who have made significant contributions to the good of the two industries.
---
ITS MISSION WAS FIVE FOLD:
To maintain a Hall of Fame to honor the leaders of our Industries. Today we have over 400 members in the Hall called the "Wall of Fame"
To archive our history. Today we have a great library with over 20,000 industry publications
To create a display of historic products for both RV & MH Industries. Today we have a one of a kind RV museum starting with over 100 year old RV's. Also many Mobile Home Artifacts over 75 years old.
To aid in promoting the RV/MH industries. Today we have the GoRving Hall for New RVs and the new Manufactured Home display for MH.
To provide a first class event center. Today we operate the Northern Indiana Event Center ( N.I.E.C ) with over 58,000 sq..ft. of space available in eight different areas, plus over a million square feet of parking.
In the past eight years we have made great strides in improving the financial stability of the RV/MH Heritage Foundation by be-coming debt-free and increasing our net worth by over 12 million dollars.
RVMH Heritage Foundation has plans to build a 60,000 square foot event center early in this decade which will complete the vision for the 40 acre site.
Please add your name to the list of donors by clicking the button below to make your contribution.
Thank you for your support
Darryl Searer
President
---
Foundation Board and Staff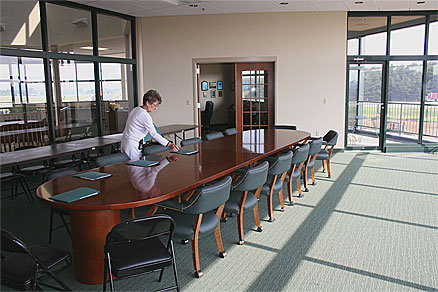 Executive Committee
Barry Cole, Chairman Emeritus
MH Insurance Services
Orange, California
Darryl Searer, President/Treasurer
RV/MH Hall of Fame
Elkhart, Indiana
Joe Stegmayer, Past Chairman
Cavco Industries Inc.
Phoenix, Arizona
Mick Ferkey, Chairman
Greeneway RV
Wisconsin Rapids, Wisconsin
Dana Nelsen, Board Member
RV News Magazine
Denver, Colorado
Thomas R. Walworth,
Statistical Surveys
Grand Rapids, Michigan
Betty Whittaker, Board Member
Kentucky Manufactured Housing Institute
Frankfort, Kentucky
BJ Thompson, Board of Directors
BJ Thompson Associates
Osceola, Indiana
Jim Scoular, Member
Jimsco
Sioux Falls, South Dakota
The Board
Debbie Brunoforte
Little Dealer, Little Prices
Phoenix, Arizona
John Evans
E&R MH/RV Window Service
Redlands, California
Randy Biles
RV Dealer
Colorado Springs CO
Tim McGuire
Retired CEO of Coast Distribution
Tim DeWitt
Retired President of MARVAC
Livonia MI
Mike Sullivan
Irvine CA 92614
Bill Thomas
Thomas RV Dealer
Wentzville MO
John D Roba
Roba and Associates
Clarence Center, New York
Mark Bowersox
Manufactured Housing Institute
Arlington, VA
Founding Staff
Ryan Szklarek
Executive Vice President
RV/MH Heritage Foundation

Administrative Director
RVMH Heritage Foundation
Kelsey McDaniel
Administrative Assistant
RV/MH Heritage Foundation
Chuck Wilde
Head of Maintenance
RVMH Heritage Foundation
Admissions & Gift Shop
Sydney Hale
Lee Mathieu
Connie Hart
Jon Hart
Briana Sanchez
Leo Poggione
Craftsman Homes, Inc.
Reno, Nevada