Go RVing Hall – Discover RVing as it is Today
The Go RVing exhibition at the RV/MH Hall of Fame and Museum features a contemporary, state-of-the-art display celebrating the campaign's vital role in the RV industry and invites visitors to discover RVing as it is today.
---
Attractions include a theater where the Go RVing TV ads and DVD movie play continuously, cinema-sized murals, interactive versions of the print ads and computer kiosks where visitors can search the Go RVing website for RV dealers, campgrounds and manufacturers.
New RVs selected by the museum are also on display in the Go RVing hall, so visitors can contrast today's products with the vintage vehicles on display in the museum's main space.
Because of Go RVing, the museum now speaks to the present as well as the past.
Go RVing is proud to have sponsored this important exhibit. Their presence in the beautiful new Hall of Fame/Museum benefits the entire industry by bringing valuable exposure to manufacturers and dealers and building awareness of the Go RVing campaign. The RV/MH Heritage Foundation and the City of Elkhart also benefit by the presence of this major new attraction, and, most importantly, so do consumers.
RV/MH Hall of Fame Sign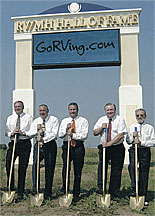 The sign with digital electronic messaging on I-80/I-90 East of Elkhart Indiana, was purchased with a finacial gift from the Go RVing Coalition.
Go RVing Theater
Go RVing Interactive Ads
---
About Go RVing
The Go RVing Coalition, formed in 1994, consists of RV manufacturers, component suppliers, dealers and campgrounds. Go RVing works to provide the public and media with pertinent information about the benefits of RV travel and to foster customer satisfaction with the RV experience through customer research conducted by the Committee on Excellence.
The Coalition was formed by representatives of Recreation Vehicle Industry Association (RVIA), Recreation Vehicle Dealers Association (RVDA), National Association of RV Parks and Campgrounds (ARVC) and leading state RV and campgrounds associations to distribute information about the benefits of the RV Lifestyle.

Visit GoRVing.com