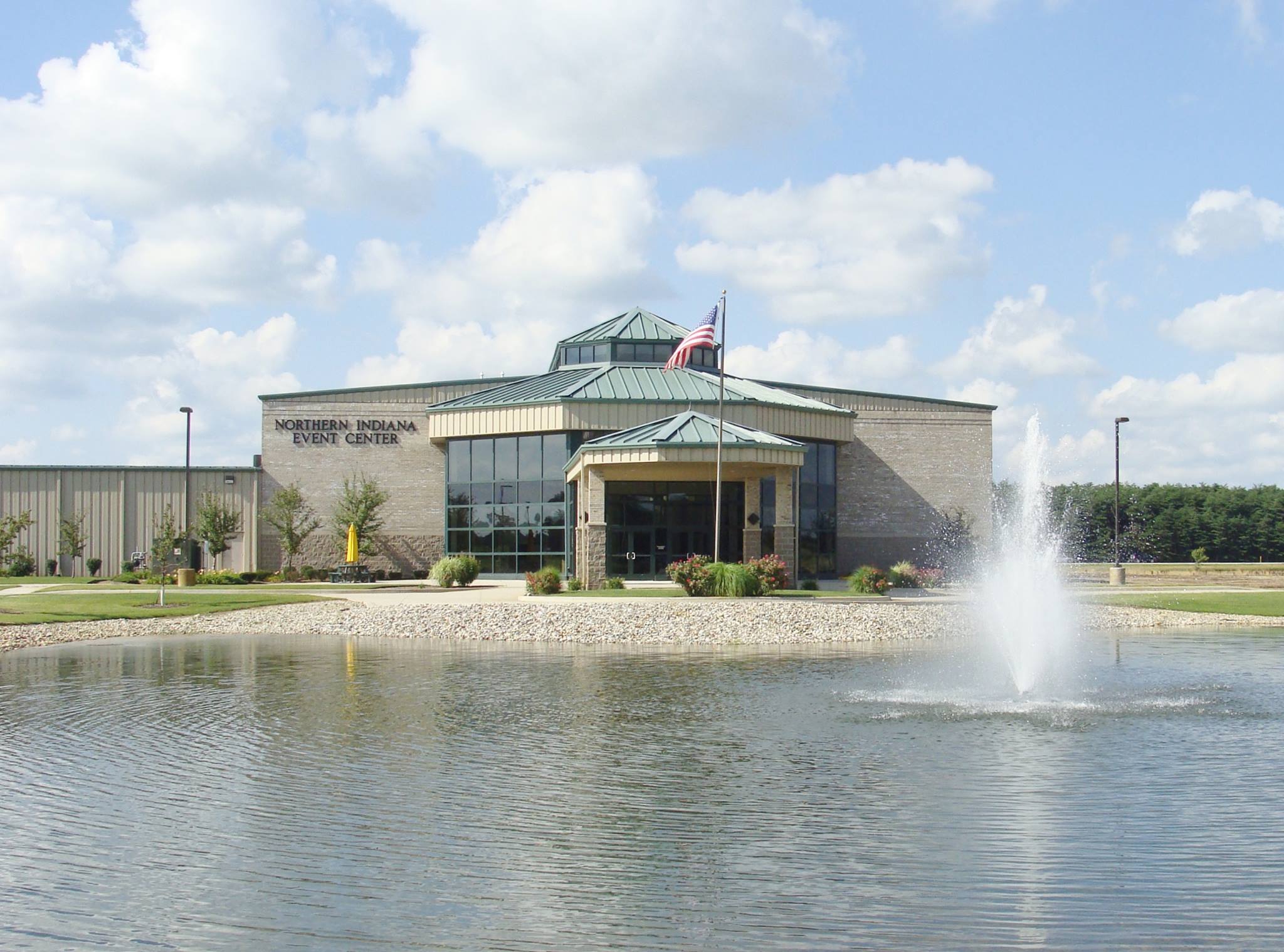 For more information on the Event Center call: (574) 293-1191
What time period does the event cover?

Rental time of the facility varies by event. Our Event Manager will be happy to discuss the details with you.


Does the Northern Indiana Event Center allow smoking on premises?

The Northern Indiana Event Center is a non-smoking facility. Outside smoking is permitted.


Can I bring my own food and beverages into the facility?

All food and beverages must be pre-arranged with the Northern Indiana Event Center's preferred caterers or your pre-approved caterer. Your caterer must be licensed, insured, and have the proper permits from the health department. They must also agree to our terms of service before we will approve them.


Do I need to make an appointment to see the facility or can I just stop by?

We request that you make an appointment with one of our event managers. Our staff can give you a tour of the different halls that we have and will be available to answer any questions.


What kind of events can you hold at the Northern Indiana Event Center?

We can organize a variety of large and small business meetings, expos, corporate training, holiday parties, birthday celebrations, family reunions, class reunions, weddings, receptions, baby showers, bridal showers, trade shows and more. Bring us your ideas!


How do I reserve my date at the Northern Indiana Event Center?

In order to reserve your day(s), we require that you sign a contract and make a deposit. Your deposit will hold that date and is refundable barring any damages and proper cleanup. Refundable deposits will be made 30 days after your event.


What types of decorations are allowed?

Decorations must be free standing, and not affixed to the wall or ceiling. Candles must be in a safe container. Birdseed, rice, confetti, glitter, bubbles, silly stream, and party poppers may not be used. Helium balloons and fog machines are not allowed. If decorations are left you may potentially lose partial/full security deposit.


What is the maximum amount of guests that can be seated in the different rooms?

Ingram Hall can accommodate up to 1,000 guests seated at tables. It will hold around 2,100 in seated rows. Champion Hall can accommodate up to 200 guests seated at tables. Grand Hall can accommodate up to 60 guests seated at tables. It will hold around 100 in seated rows. We also have a couple of event space options available inside of the RV/MH Hall Of Fame. Younkin Theatre has 75 padded seats in a stadium seating format and the elegant Executive Board Room is an ideal setting for small group with up to 12 participants.


Do you have a stage?

We have a stage available for your use. Please inquire for pricing.


Can I have a band or a DJ?

Yes, but they must provide their own equipment or furniture. Your band or DJ must use equipment that will not overload the existing electrical system. No modification of the existing electrical system is allowed.


What is included in the price of the rental?

We have several tables and chairs for your use. Use of the WiFi is complimentary. Parking is free. Limited audio and visual equipment can be used. Please contact the event manager for more details.


Do you offer special rates?

We certainly do! Our rates are discounted for off-peak days of the week (Monday-Thursday).


Can we bring in our own alcohol?

You cannot bring in your own alcohol. (*See below) You may hire a licensed caterer that has a Type 222 permit. Those permits allow the bar/restaurant/caterer to cater alcoholic beverages to events away from their licensed premises. They in turn, must submit a Request To Cater An Event with the local Excise district and be approved for a temporary permit. They must also be approved by the Northern Indiana Event Center as a member in good standing. We want to be sure that everyone leaves safely and that no one under age consumes alcohol on our premises. We also require that all alcohol that is served remains in the building. Removal of alcohol from the premises may result in immediate termination of your event with no refund. Please remind your guests to leave their drinks inside as they exit the building to smoke.(*IC 7.1-5-8-6: It is illegal for a private party to bring alcoholic beverages into a business or place of public entertainment for the purpose of consuming, displaying, selling, furnishing, or giving it away to another person, or for the purpose of having it served to you.)


Can we bring in our own beer/wine?

You may bring in your beer and wine under the following conditions: You Must Apply For A Temporary Beer/Wine Permit From The State Excise Police•Anyone over age 21 can apply for permit •Allows for beer and wine only, no spirits (hard liquor) •Costs $50 per day (no rain dates allowed) •Application, a floor plan of the room you are renting from us, and payment needs to be received by the Excise Police a minimum of fifteen (15) days prior to your event. Failure to do so will result in denial of permit or require you to drive to ATC Headquarters in Indianapolis in order to get permit •In addition to that permit, a licensed bartender is required to serve, pour, and dispense any alcoholic beverages. If you do not have someone available that has a permit, please contact our event staff to locate a bartender for you.If minors (persons under 21) will be present at the event, separation is required around the bar. Minimum separation allowed is stanchions/theater rope. Please note: Non-alcoholic beverages will need to be made available at another location for minors to access. You may not serve them from the same area.