RV/MH Heritage Foundation Unveils
Spectacular Vision for the Future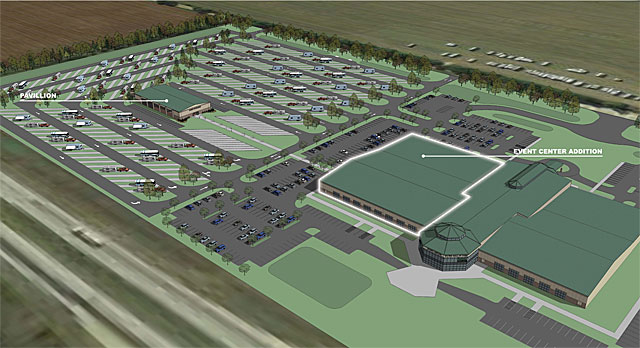 RV/MH Heritage Foundation (Foundation) President Darryl Searer unveiled a new optimistic plan for the future to the Foundation's RV/MH Hall of Fame and Museum and Event Center that includes a massive expansion to the current facilities. In introducing the plan Searer explained, "Over four years have passed since I volunteered to help the Hall of Fame out its financial difficulties, and with a lot of support from hundreds of individuals and scores of companies, we see the light at the end of the tunnel and the Foundation is getting close to its original debt-free goal.
"The Big picture is, we have doubled the average income for the last four years; we cut expenses by more than 10 percent per year; we paid off the "Boots" Ingram Family's loan in less than three years; we settled a dispute with the city of Elkhart in less than one year; we paid off David Woodworth on the antique RV collection in just over one year and we increased our credit worthiness allowing us to obtain a standard mortgage at a rate of 3.5 percent.
"All of these actions have reduced the Hall's debt to the level where we have over 90 percent equity. And now is the time to look towards the future."
With that in mind unveiled Searer laid out his and the board of director's vision of the future on its 40-acre site outside Elkhart, Indiana.
He said, "These plans will allow us to grow with the RV and Manufactured Housing Industries as well as the greater Elkhart community to service the event center needs, office needs and the long-awaited Scoular Manufactured Housing Museum.
"These plans will also insure a positive cash flow to make certain the Hall will be here forever. The goal would be to have the new expanded Hall of Fame, Event Center, rally site, parking, offices and manufactured housing museum completed by 2020 or sooner based on how soon we can raise the funds so we are debt free when we occupy the new facility."
Searer said, "I'd like to leave you with this question in your mind: Has the RV and/or manufactured housing industry been good to you and your family or your life has been enhanced by living the RV lifestyle? If the answer is yes, let's please find it in your hearts to give something back to those industries by supporting the Foundation's vision for the future at whatever level you can afford.