ELKHART, Ind., — Over 400 industry leaders, friends, colleagues and guests gathered at RV/MH Hall of Fame last night (August 6, 2018) to help celebrate the induction of the Class of 2018 into the RV/MH Hall of Fame (Hall).
The RV industry inductees include Derald Bontrager, Jayco Corporation; Roger Faulkner, General Coach Canada; Gregg Fore, Dicor Corporation; Rebecca (Becky) Lenington, Pennsylvania RV and Camping Association; Daniel R Pearson; Pleasureland RV.
On the manufactured housing side, the inductees include Michael A. Cirillo, Star Management: Darrel Cohron and Harrel Cohron (deceased), Cohron's Manufactured Homes; John Evans, California Manufactured Housing Institute (CMHI); Gub Mix, Idaho, Utah, Nevada and Arizona State MH Associations; Bill Wilson, Cherry Hill Homes, Inc. Before the induction ceremonies, Hall President Darryl Searer, said in his "Annual State of the Hall" address, "Besides this being our 46th year in existence, this is our eleventh year at this beautiful location and my seventh State of the Hall address. I'm excited as we continue to make great progress in all areas of the operation. Income is up and expenses are down. Our debt continues to be paid down at an aggressive pace, and we are financially stable and operating in the black. But we still have a very small amount of debt.
"I can now announce with certainty that on or before December 31st of this year we will be debt free! We would never have been able to achieve this goal without all companies and individuals that have made this goal possible by their generous donations. I especially thank those who have contributed to the Kevin Clayton Debt Reduction program which started less than four years ago is now at 98 percent of its $1 million goal. Thank you all."
Spirit Award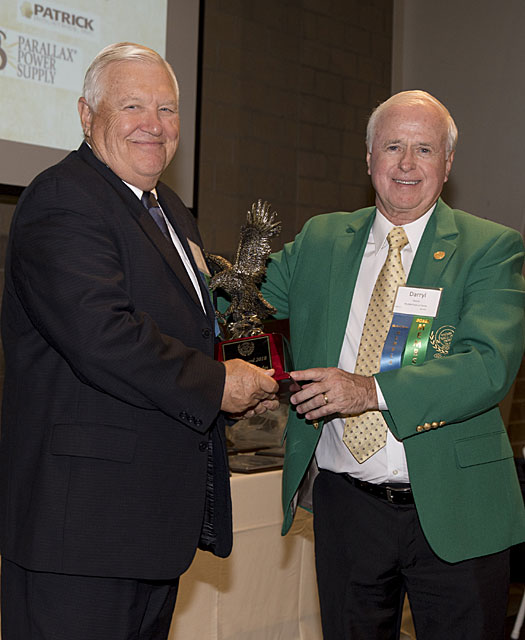 Searer also presented the 2018 RV/MH Heritage Foundation's "Darryl Searer Spirit Award" to Jim Scoular. The Spirit Award is an annual award to honor the person who has demonstrated his or her desire and dedication to further the legacy of our great heritage.
In making the presentation Searer said, "Jim Scoular is no stranger to the Hall of Fame. He is the second generation to be involved on the board of directors and has been instrumental in making sure the Hall of Fame remains the shining star of both the RV & MH Industries for many years to come."
Searer pointed out that when it looked like the Hall of Fame could become a thing of the past. He said, "Jim rejoined the board of directors and did something about it. Today our financial worries are behind us thanks to this man's concern and love for the Hall.
"He also has been the driving force behind the temporary Scoular MH Museum now available for all to enjoy."