Held During RV Open House in September
RV Hall of Fame Supplier Show Dates Set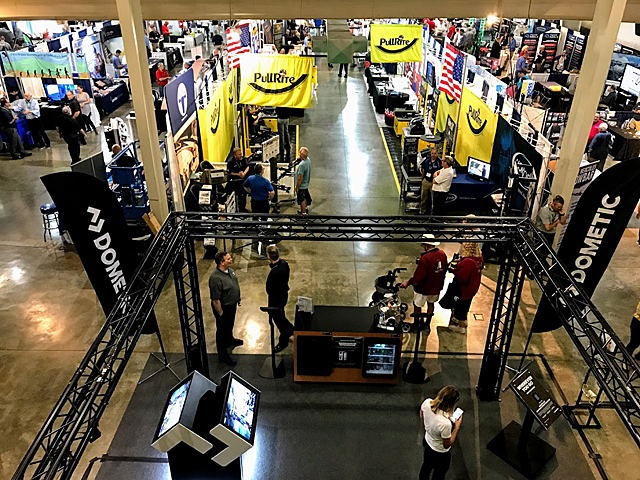 September 21,22,23, 24
Show Hours 9-5 daily Mon-Wed & 9-1 pm Thurs
ELKHART, Ind. – Since announcing the availability of an additional 40 indoor exhibitor booths four weeks ago for the Second Annual RV Hall of Fame Suppliers Show held during the September RV Open House, all of those booths have already been sold and paid for, according to Hall of Fame President Darryl Searer. The only chance for suppliers to be inside is if any suppliers that showed last year do not sign up and pay for this year as of Jan 31st, 2020 which is today.
Searer said, "Based upon the results of last year's sellout event, the show was a huge success for exhibitors. Except for two, all exhibitors have reserved their same space for the 2020 show and those 2 booths have been sold. I urge those suppliers that are thinking about exhibiting at this year's event to make their reservations by contacting me now."
Indoor booths are 10-ft-wide and 8-ft-deep at a cost of $2,500 per booth. Included in the price are two padded chairs, one 8-ft. table, drayage to and from booth, electric, WiFi, badges, complimentary drinks, hospitality area, storage if necessary. The Hall plans to do more promotion and advertising this year.
Searer noted there is still some outdoor exhibit space available for demo type RV's.
For more information and registration for the 2nd Annual RV Hall of Fame Suppliers Show visit https://www.rvmhhalloffame.org/rv-hall-of-fame-suppliers-show / or email: dlsearer@aol.com