Monday, August 16, 2021
was a huge success! Our sincerest thank you to all of the guests and inductees who attended…Enjoy the photos in the video below.
Information on the classes of 2020 & 2021 are below…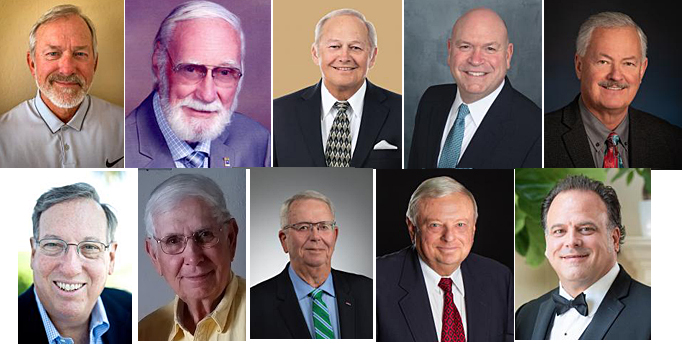 Class of 2020 (Pictured Above)
Top row: RV: Mark Beecher, Garth W. Cane, David Fought, Jeff Pastore, Dave Schutz,
Bottom Row: MH: Steven P. Adler, Burt Dickman, (Deceased), Ron Dunlap, George Porter, Jerry Ruggirello

Class of 2021 (Pictured Below)
Top row: Eleonore Hamm, Robert "Bob" Parish, Jeffrey M. Hirsch, Jim Sheldon, Bob Tiedge,
Bottom Row: Ken Anderson, Keith I. Casenhiser, Charles E. Lott, Debra J Pizer, Alan H Spencer,

ELKHART, Ind. – Darryl Searer, president of the RV/MH Hall of Fame has stated "because of a major conflict within the industry, the Annual RV/MH Hall of Fame Induction Dinner will be held Monday August 16, 2021".
The Class of 2020 includes:


RV Inductees

Mark Beecher, RV Retail Finance, South Dakota

Garth W. Cane, RV Service Technician; Professor, Cobourg, ON, Canada

David Fought, RV manufacturer, Indiana

Jeff Pastore, RV Dealer, Ohio

David Schutz, Supplier, Indiana


Manufactured Housing Inductees

Steven P. Adler, Manufactured Home Community Owner/Operator, Florida

Burt Dickman, Manufactured Home Communities, Indiana (Deceased)

Ron Dunlap, Association Executive, Virginia

George Porter, Manufactured Housing Resources, Delaware

Jerry Ruggirello, Manufactured Home Community Owner/Operator

The Class of 2021 includes:


RV Inductees

Eleonore Hamm, Association, Richmond, BC, Canada

Robert "Bob" Parish, Supplier/Finance, Florida
Jeffrey M. Hirsch,, RV Dealer, Florida

Jim Sheldon, OEM, California

Bob Tiedge, Supplier, Indiana


Manufactured Housing Inductees

Ken Anderson,, MFG/Dealer/State Assoc.,Arizona

Keith I. Casenhiser,Community Owner/Operator, California

Charles E. Lott,, OEM, Georgia

Debra J Pizer,Community Development Illinois

Alan H Spencer,Manufactured Home Dealer, South Dakota

Secure Reservation Form