RV/MH Hall of Fame Online Induction Dinner RSVP
Thursday, December 3, 2020
at the
Northern Indiana Event Center
Elkhart, Indiana
2020 RV/MH Hall of Fame Induction Dinner Postponed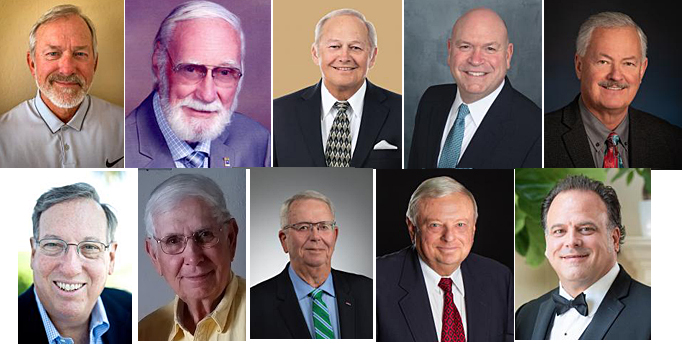 Class of 2020
Top row: RV: Mark Beecher, Garth W. Cane, David Fought, Jeff Pastore, Dave Schutz,
Bottom Row: MH: Steven P. Adler, Burt Dickman, (Deceased), Ron Dunlap, George Porter, Jerry Ruggirello
ELKHART, Ind. – In a emergency meeting of the RV/MH Hall of Fame (Hall) executive committee on July 6th, the committee voted to postpone the Annual RV/MH Hall of Fame Induction Dinner until Thursday, December 3, 2020. The ceremony was originally scheduled for August 3rd.
Darryl Searer, president of the Hall, said, "I have had better days, but we need to do what needs to be done. And postponing the Induction Dinner amid the continuing Coronavirus pandemic is the appropriate course of action."
In their decision, the executive committee believed the atmosphere to celebrate at this later date would be much more positive, health concerns would not plague the evening, and an overall feeling of peace of mind would more than likely be present.
Searer added, "And the Class of 2020 Inductees agreed. As it is their day, I have spoken with the Inductees and the overwhelming vote was to move the date towards the end of the year. They all thanked us for agreeing to move the date."
The Class of 2020 includes:


RV Inductees

Mark Beecher, RV Retail Finance, South Dakota

Garth W. Cane, RV Service Technician; Professor, Cobourg, ON, Canada

David Fought, RV manufacturer, Indiana

Jeff Pastore, RV Dealer, Ohio

David Schutz, Supplier, Indiana

Manufactured Housing Inductees

Steven P. Adler, Manufactured Home Community Owner/Operator, Florida

Burt Dickman, Manufactured Home Communities, Indiana (Deceased)

Ron Dunlap, Association Executive, Virginia

George Porter, Manufactured Housing Resources, Delaware

Jerry Ruggirello, Manufactured Home Community Owner/Operator

Induction Dinner celebration begins at 5:30 p.m. with a cash bar cocktail party, followed by the dinner and induction ceremonies at 6:30 p.m.
Secure Reservation Form