Reservations for the 2020 RV/MH Hall of Fame Induction Dinner Outpacing Last Year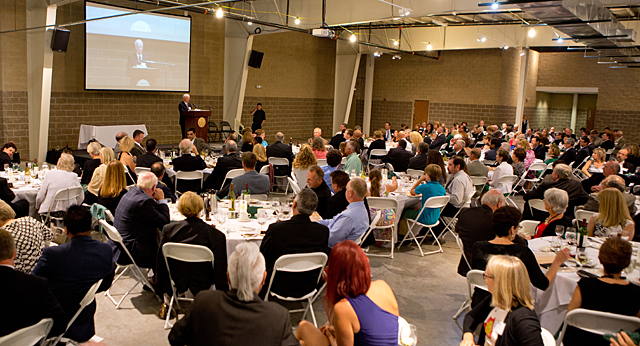 ELKHART, Ind. – While the RV/MH Hall of Fame's Annual Induction Dinner celebrating the Class of 2020 is still months away, reservations are pouring in, according to Darryl Searer, president, RV/MH Heritage Foundation.
Searer said, "Compared to this same time last year, dinner reservations for the Class of 2020 are coming in ahead of pace.. A year ago this time, we had 30 reservations, today more than 60 people have signed up to attend the dinner. Seating at the event is assigned on a first come, first served basis, so don't wait; reservation forms are online at www.rvmhhalloffame.org/rsvp/."
The induction ceremony will be held on August 3, 2020, at the Hall of Fame's Northern Indiana Event Center in Elkhart, Indiana.
The 2020 Induction Dinner celebration begins at 5:30 p.m. with a cash bar cocktail party, followed by the dinner and induction ceremonies at 6:30 p.m. I hope all the friends and colleagues of the inductees and industry members will join us in honoring these outstanding industry leaders and pioneers who have had a major impact on our professions and lives.
Those being inducted in the Class of 2020 include:
RV Inductees
Mark Beecher, RV Retail Finance, South Dakota
Garth W. Cane, RV Service Technician; Professor, Cobourg, ON, Canada
David Fought, RV manufacturer, Indiana
Jeff Pastore, RV Dealer, Ohio
Dave Schutz, Supplier, Indiana
Manufactured Housing Inductees
Steven P. Adler, Manufactured Home Community Owner/Operator, Florida
Burt Dickman, Manufactured Home Communities, Indiana (Deceased)
Ron Dunlap, Association Executive, Virginia
George Porter, Manufactured Housing Resources, Delaware
Jerry Ruggirello, Manufactured Home Community Owner/Operator
Searer said, "This event is truly a major industry affair. It not only honors the inductees who have attained a major milestone in their lives and careers, but it also provides an opportunity to network with industry leaders who normally attend the event.
For more information or to make reservations, please visit: www.rvmhhalloffame.org/rsvp or call the Hall of Fame at 574-293-2344 or 800-378-8694