New Construction Underway at the RV/MH Hall of Fame
Searer Anticipates the Construction Could be Complete in
Time for the Class of 2019 Hall of Fame Induction Ceremonies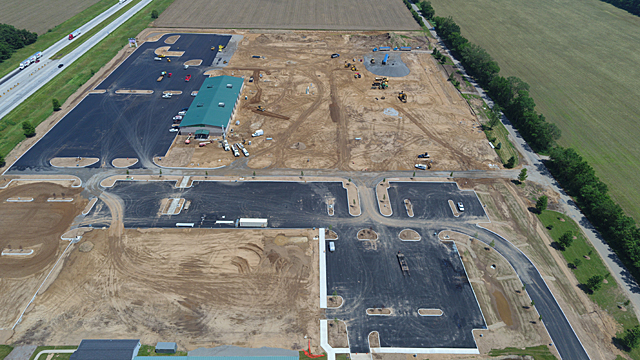 ELKHART — New construction is now underway at the RV/MH Hall of Fame. The work is part of a growth strategy that includes a new pavilion and eventually adding a large, new event center.
The current project is focused on building a new 22,500-square-foot pavilion, according to Darryl Searer, president of the RV/MH Heritage Foundation.
The Elkhart County Commissioners helped the expansion plans move forward at their recent meeting. They approved the Hall of Fame organization's request to update the current development plan in its business park zoning to allow for new construction.
"The pavilion will include heating and air conditioning for year-round use and new parking. The site will be set in a large outdoor space that can host shows and rallies," Searer said. He also said the construction will be nearing completion by the August 5, RV/MH Hall of Fame Induction Dinner, but no later than the 2019 September RV Open House in Elkhart.
"It's truly a win ,win, win for Thor, the RVMH Hall and the greater Elkhart community " Searer said. "We're really excited about it."
The pavilion is considered the first of three phases to expand and update the Hall of Fame under plans that have been in the works since about 2016. The other two phases have called for building a new 60,000-square-foot event center and then renovating the existing event center.
Searer said Phase 2 is on hold and won't start until after funds are raised for construction. The Phase 3 renovation can't start until the new facility is built, he said.
"All those attending the Induction Dinner will be able to see all the improvements going on at the Hall, so we are encouraging RV and Manufactured Housing industries members to join in the celebration," Searer said.
As a reminder, those being inducted in the Class of 2019 include:
RV Inductees: Randy Biles, Pikes Peak Traveland; Jeffrey P. Few, Automation & Manufacturing Systems; Bruce Hopkins, Recreation Vehicle Industry Association (RVIA); Lance Wilson, Florida RV Trade Association; and Daryl Zook, KZ RV.
MH Inductees: Richard "Dick" Ernst, Financial Marketing Associates, Inc.; John Carey, Modern Home Sales and Midwest Homes; Leo Poggione, Craftsman Homes; D. Raymond Broderick, Superior Homes; and Walter "Wally" Comer, Adventure Homes LLC.
Searer said, "Everyone is welcome so we hope to see a large turnout for these honorees. Make a day of it by also signing up for our Annual Golf Classic Fundraiser."
To make reservations for the induction dinner and/or the golf outing, visit www.rvmhhalloffame.org or by calling 574-293-2344. To make reservations by mail, send to:
2019 Induction Dinner/Golf Classic
RV/MH Hall of Fame
21565 Executive Parkway
Elkhart Indiana 46514