Gun Show
MARCH 13-15, 2020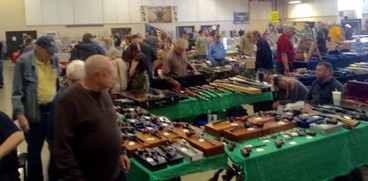 Welcome to Gun Slinger's Indiana gun shows, presented by Gun Slinger Promotions USA, LLC.
We strive to offer safe, family-friendly Indiana gun shows with a variety of the best dealers in Indiana and beyond. Featuring the best in arms as well as accessories, ammunition, knives, military collectibles, survival items, concealed carry, and much more.
ATMs, food, free parking, free RV parking, and 24-hour protection and security are always available.
Admission is only $6 per person, 2-day passes are $11, 3-day passes are $15, children under 12 are free when accompanied by an adult, seniors 60 & up get $1 off, and law enforcement officers are admitted free. Evansville 200 2 day pass $11. Under 18 must be accompanied by an adult.
We are giving a gun away at each show for the rest of 2019! Entries must be complete and legible. Must be 21 or older to win. Prizes must be claimed within 60 days.
All applicable local, State, and Federal laws will be strictly observed and enforced at our shows.
Michigan transfers are available at all the Elkhart 350, LaGrange Co 500 and Shipshewana 275 Shows. Ohio transfers available at all shows if they are not on the 1st or 3rd weekends of the month. Kentucky transfers avalible at all Evansville 200, cost will be $20.
Please remember:
ALL WEAPONS MUST BE UNLOADED & SECURED
UPON ENTRY AT THE WEAPONS CHECK TABLE.