2020 RV Industry Power Breakfast Slated for December 3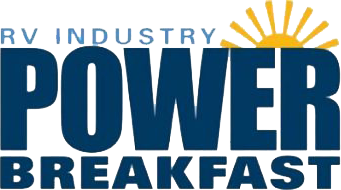 The 2020 RV Industry Power Breakfast, an annual rite of spring for the U.S. recreational vehicle arena, is scheduled for December 3rd in the RV/MH Hall of Fame's Ingram Hall on the northeast side of the RV-building center of Elkhart, Ind., according to an ad hoc committee that oversees the breakfast that is facilitated by RVBusiness magazine.
Following opening comments by Recreation Vehicle Dealers Association (RVDA) President Phil Ingrassia and special presentations by new RV Industry Association (RVIA) President Craig Kirby and Kampgrounds of America Inc. (KOA) President and CEO Toby O'Rourke, the chief executives of America's three highest volume RV builders will sit down for a moderated forum to discuss an array of topics. On stage for this unique "RV Executive Summit" will be Thor Industries Inc. President and CEO Bob Martin, Forest River Inc. President and CEO Pete Liegl and Winnebago Industries Inc. President and CEO Mike Happe.
Also on the agenda for this year's breakfast will be video greetings from U.S. Rep. Jackie Walorski of Indiana's 2nd Congressional District plus a special teleconference chat with U.S. Sen. Mike Braun, R-Ind., who was first elected to the Senate in 2018. A Wabash College and Harvard Business School graduate, Braun's career is closely linked to the automotive and RV aftermarket parts and accessories business through his Jasper, Ind.-based company, Meyer Distributing Inc.
Details regarding online reservations will be announced soon for the RV Industry Power Breakfast, sponsored by Airxcel, Cummins Inc., Winnebago Industries Inc., Dometic Corp., Wells Fargo CDF, Forest River Inc., KOA, Spartan Motors Inc., RVIA, and Thor Industries.