RV/MH Hall of Fame Sets Dates and Agenda for the 2020 Induction Dinner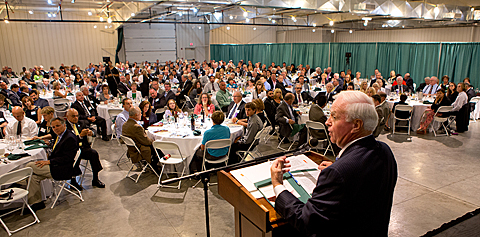 ELKHART, Ind. — The RV/MH Hall of Fame's Annual Induction Dinner honoring the Class of 2020 will be held on August 3, 2020, at the Hall of Fame's Northern Indiana Event Center in Elkhart, Indiana, according to Darryl Searer, president, RV/MH Hall of Fame (Hall).
Searer said, "Our 2020 Induction Dinner celebration begins at 5:30 p.m. with a cash bar cocktail party, followed by the dinner and induction ceremonies at 6:30 p.m. I hope a record number of friends and colleagues of the inductees and industry members will join us in honoring these outstanding industry pioneers who have had a major impact on our professions and lives."
Those being inducted in the Class of 2020 include:
RV Inductees
Mark Beecher, RV Retail Finance, South Dakota
Garth W. Cane, RV Service Technician; Professor, Cobourg, ON, Canada
David Fought, RV manufacturer, Indiana
Jeff Pastore, RV Dealer, Ohio
Dave Schutz, Supplier, Indiana
Manufactured Housing Inductees
Steven P. Adler, Manufactured Home Community Owner/Operator, Florida
Burt Dickman, Manufactured Home Communities, Indiana (Deceased)
Ron Dunlap, Association Executive, Virginia
George Porter, Manufactured Housing Resources, Delaware
Jerry Ruggirello, Manufactured Home Community Owner/Operator
In addition to the Induction ceremony, the Hall is seeking sponsors for the various Induction Dinner events.
Searer added, "We encourage those planning to attend to make their reservations early because preferred seating is assigned on a first-come, first-served basis."
Registration is open to all, so sign up now. For more information or to make reservations, please visit: www.rvmhhalloffame.org/rsvp/